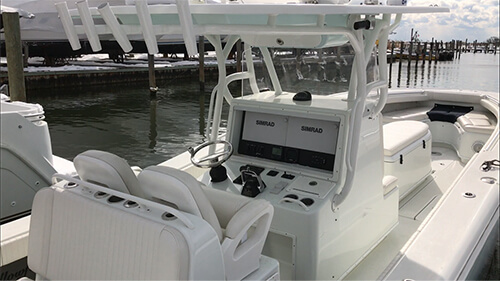 The Liberty Gun is a big fast boat and we spare no expense in getting you on the fish. Your Oregon Albacore Tuna charter is going to be first class. Join Kevin on the fast and comfortable "Liberty Gun" out of Astoria, Oregon or Ilwaco, Washington!
This 36' 7", triple 300 hp offshore fishing machine can quickly and comfortably get you to where the fish are!
Oregon's Albacore fishery has been in existence for many years, but until the last decade, was primarily fished only by commercial boats, with an occasional charter taking clients out to fish tuna with hand lines. The rod and reel fishery didn't really begin to blossom until the early 2000's.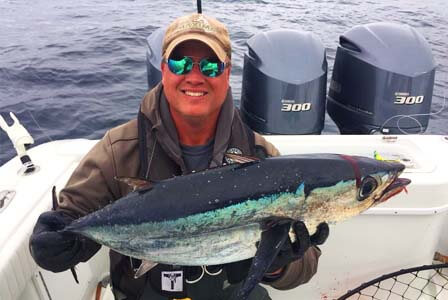 Since that time, Oregon has grown in recognition as one of the best Albacore fisheries in the country, and possibly the world. There aren't many locations where private boats and charters regularly see 15 to 40 fish days, and quite often, considerably more! Come see what this fishery is all about, but be warned, it's amazingly addictive!
Book your Oregon tuna charter on our ultra fast and comfortable 36' 7" Yellowfin Center Console, the Liberty Gun!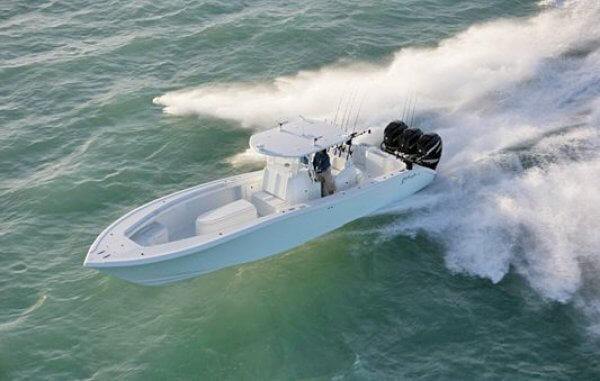 40 MPH Cruise with a 62 MPH Max!
Less time driving means more time fishing!
Tuna trips are always booked with the understanding of, if we can't get out to the tuna grounds because of bad weather out there, lack of fish etc, then we will fall back to a different species at the corresponding reduced rate.
This could be deep water rockfish, lingcod, nearshore rockfish & lingcod, salmon in the river etc.
If we don't think the fishing will be good anywhere, then a refund or reschedule will be made.
After all we know you want to go fishing and we don't like cancelling on the dock because of weather that is out of our control.
We just adapt and overcome, change the plans up and fish for some other type of cool fish!
Our Oregon Tuna Fishing Season
The Oregon tuna season starts around the beginning of July when the first fish begin to arrive from the mid-pacific, and continues well into October. There have been many years where the commercial fleet still lands fish into November, but the ocean has generally become too rough to target these silver speedsters.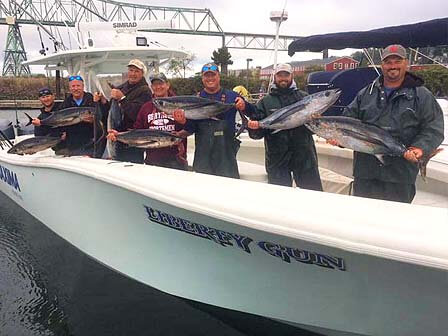 When the Albacore first show up in July they are primarily feeding on squid. This is when our troll fishery really shines. We generally run 5 to 8 lines at a time, trolling tuna jigs (7 Strand Tuna Clones, Zukers, Eat Me Lures Lolo's, etc..), cedar plugs, and large diving plugs like Rapala X-Rap Magnums. The troll fishery is consistent until somewhere around the middle of August when we begin to see the fish switch their preference to baitfish.
As this transition occurs, we find our troll bite begining to dwindle, while the use of swim baits (both trolled and cast), vertical jigging, and live bait become a much bigger part of our game plan. During this transition period, the troll bite can still be good at times, but you have to be ready to change up your fishing technique based on the fish's mood. As the end of August arrives, the traditional troll bite (trolling tuna jigs) is all but over for the year, and our days become centered around fishing live bait and baitfish imitations.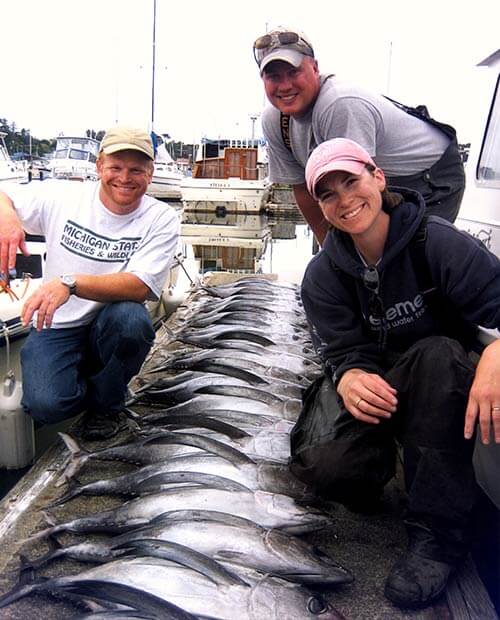 September can often be the most exciting fishing of the year. This is when our run and gun fishery blossoms!
Run and gun fishing is an exciting way to pursue these fish, combining hunting and fishing into one action packed past time. The boat cruises along offshore in areas showing signs of fish, actively looking for groups of albacore crashing bait up top. No troll spreads needed! Once fish are spotted, the boat eases up to the action, and swim baits or iron (different types of lead jigs) are cast into the melee trying to get a couple fish hooked up.
Once a couple tuna are hooked, the transition is attempted, where we chum live and dead baits at the back of the boat to lure the entire school to the transom of the boat. When a tuna school commits, and boils up at the back of the boat, true pandemonium breaks out on deck. It's something you have to experience at least once in your life, but again be warned, this is a super addictive type of fishing!
Of course these basic seasons can change year to year. There have been many instances, where we find tuna schools up on top in July and are able to make great catches casting swim baits and fishing live bait, and we've had some years where the tuna clone troll fishery lasts well into September. For this reason we carry a fully rigged arsenal of rods on each trip so we can be sure to employ the necessary techniques to be successful no matter what the tuna show a preference for.
Currently booking tuna trips for 2021
The boat you will be fishing on during your Oregon Tuna Charter
We fish from of our 36'7" Yellowfin full walk around charter boat, the Liberty Gun.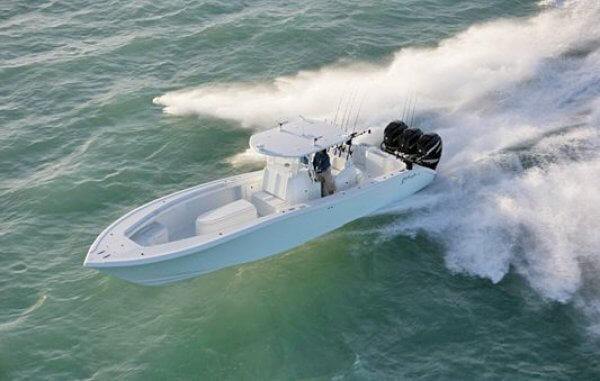 We have marine bean bag chairs for your comfort when we're running, as well as forward, middle and stern seating that easily accomodates six anglers.
Liberty Gun is powered by triple Yamaha, 300 hp, four stroke engines, that get us to the tuna grounds quickly (40 mph cruise!), quietly and reliably. In fact, they are so quiet when idling, you have to look back at the motors to see if water is coming out of them to tell if they are even running.
We also have all the safety gear, including a satellite phone, high power vhf radio, GPS Chartplotter, FLIR Night Vision, 62 mile radar, 8 man life raft, flares, first aid kits, and life jackets, including inflatebles. Insured and bonded of course. The captain Kevin Newell is Coast Guard licensed. Deck hand Will Martin and I have considerable experience on the ocean catching Albacore and making these fun trips.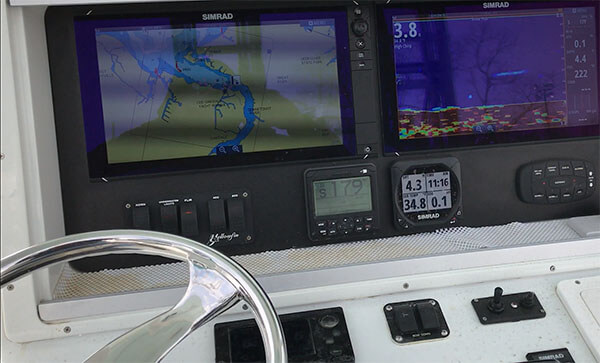 We take your safety seriously!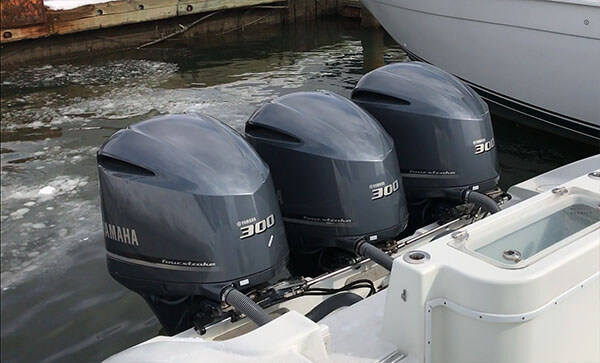 Liberty Gun also has a full compliment of fishing features! We have two Simrad 16" fish finders with five high power Airmar through hull transducers. We can actually see tuna under our boat when we are running and gunning!
Simrad Autopilot, outriggers, stereo, and a ton of fish holds. She also features enough rod storage for all the rods we carry rigged and ready to fish. She also sports two live wells, a 55 gallon and a 75 gallon. Where we can carry up to 10+ scoops of Anchovies which is a massive amount of live bait!
We take extreme pride in taking extra good care of your catch. Each fish is bled as soon as it's brought on board, and then stored in ice in our hold or in kill bags to ensure you bring back very high quality table fare.
What's included in your trip
We provide all bait, tackle, rods, and ice.
What you need to bring
- Layered clothing (it can be cool out on the ocean most days, close to 10-15 degrees cooler than on land, so plan for cooler weather!)
- Rain gear (even when it's not raining the deck gets wet from both ocean spray, as well as our deck hoses. We will be constantly washing the blood from our decks, so if you don't have raingear, you're likely to get wet!)
- Deck boots
- Camera (to document the amazing day you're going to experience)
- Any personal items you'd like to have with you.
Fish Processing
Our fishing days typically start early and run long, so plan on possibly staying overnight to recover from your exceptional fish catching day!
Processing of your catch is not included in our charter fees, but there is a filleting service in our port that will fillet and bag your fish for an additional $10 per fish.
Tuna are actually warm-blooded fish, and will typically be 4-5 degrees warmer than the water they are swimming in. For this reason it's imperative they are cooled down once caught, they don't cut well until they reach a core temperature of 35 degrees or so. For this reason the fillet service typically won't cut the fish until the following day, so make sure to plan accordingly for picking up your fish.
Rates
We fish out of an exceptional boat using high caliber gear, with no expense spared, and no detail overlooked.
Our trips are typically private, we generally don't mix groups.
These are first class trips where it is just your group on the boat and the day is all about you!
We do have a handful of days per season that we set aside for mixed parties where we try to pair you up with other small groups to accomodate anglers that don't have a party of six.
Our boat rate is $3300 per day plus tax for the boat and it can fish up to six anglers. (The boat rate applies to all groups from one angler to six anglers.)
Contact Us Now
Come fish with us and see what this great fishery is all about!
We cater to both the new tuna fisherman who just wants to spend a great day on the ocean catching some of these tasty fish, as well as experienced fishermen who want to learn new techniques, or who want to learn how to successfully and consistently find the fish.
We pride ourselves on not holding anything back. If you want to learn about this amazing fishery, just ask! We are more than happy to share our methods and techniques for finding and catching these fantastic game fish. EST.

Total Fisherman Philosophy

2000
We believe that:
Spending your life doing something you love is the secret to happiness.
Attention to detail and being absolutely driven, catches fish and creates success.
A focused effort catches more fish and bigger fish. Just going through the motions is for other people.
Spending extra time and effort toward making your day successful is important and makes a difference.
We believe that cutting corners on expenses and effort isn't something you do, even if nobody else will know.
We believe we should expect the most from every day on the water and hold ourselves to a higher standard.
We should give back as much and as often as we possibly can.
It's our job to act as stewards of the resource and as consummate professionals who know that our actions speak louder then words.
Giving 100% every day is the norm, because Buoy 10 or Estuary sturgeon or whatever season we happen to be in only comes around once a year, and in a few weeks it will be over. Let's be realistic ... every one of us has to have a last day on the water. We never know when that day will come, so we are absolutely going to make every day our best day.
We don't have gimmicks like "Fish Catch Guarantees". We won't tell you that we're catching 50 pound salmon every week, or tell you the fishing is red hot when it's not, or any of the other assorted things that guides tell prospective clients to get them on their boats. We're honest and we have integrity.
We provide high quality fishing trips at the median price for guides in the NW. We could charge more or we could charge less, but we don't want you to come fishing with us because your decision is based on price. We want you to come fishing with us because you think we run a first class operation, that we are going to treat you well, and because we catch fish.
We're not the Dollar Store of fishing guides and we certainly aren't the Four Seasons. Our pricing is middle of the road. We believe in charging enough so that we can use high quality equipment, maintain this equipment, and not have to cut corners. We also believe that charging the average price will hopefully allow you to come back more often.
We really take fishing seriously, it's our passion and we certainly want to catch fish just as much as you do; that's why we go during the best times to the best locations and spend extra time, effort, and money to make your trip the best that it can be. We want you to have a successful trip so you come back fishing with us, we also want to be successful so we maintain our reputation as top notch guides.
We take a lot of pride in our fish catching ability and we do everything in our power to put fish in the box, while at the same time having fun, and keeping you safe.
Our approach to life and to fishing isn't standard, and it would certainly be "easier" for us if we weren't worried about these things, but the easy route and the safe bet aren't what we're after. We care about you and we care about your experience on our boats.
We believe our customers, peers and fellow fishermen know that we hold this philosophy close to our hearts and that they know we are out there every day living it. We believe it's important to not let them down.
Kevin, Lacey, Chris & the whole Total Fisherman crew!
Kevin Newell & Lacey DeWeert - Team Total Fisherman