Astoria Oregon Fishing Charters, Tips, Techniques & the latest news!
Pro Guide Chris Snyder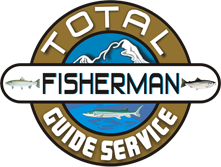 We would like to take a few minutes to introduce Chris Snyder, one of the pro guides here at Total Fisherman. In addition to handling customer inquiries and bookings, Chris guides on the Columbia River, Willamette River and the Puget Sound.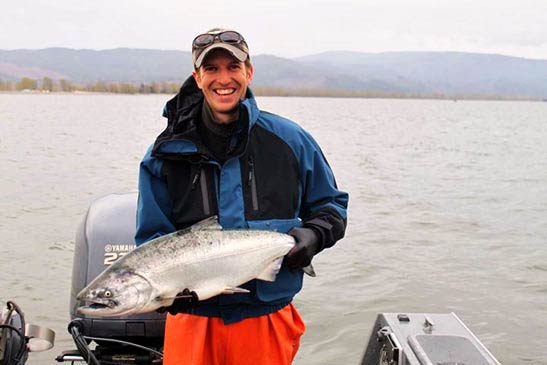 Born and raised in Alaska, Chris's love for fishing started at a young age. Growing up he spent a great deal of time in the outdoors with his family.
Spend a few minutes with Chris talking fishing, and it's evident that his love for fishing is not something that's going to pass anytime soon!
Chris's earliest angling memories were set on an impressive stage, rivers like the Kenai, Matanuska and the Susitna. Waters that leave a lasting impression on any angler lucky enough to wade their shores.
Eventually moving from Alaska, Chris and his family relocated to the Southern Oregon coast, and this is when things started to fall into place. He soon learned the power a Steelhead could have on an angler.
"I remember walking the banks of the Millacoma River with my best friend and his Dad for hours. We would start at first light, rain or shine and we would be walking back to the truck in the dark."
That was winter Steelheading and Chris was hooked!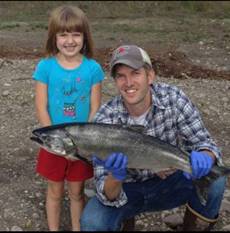 "I still vividly remember the first Steelhead I hooked. I casted to a slot on the far side of the river thinking this is as good a place as any. I recall my gear hit bottom, bounced twice, wham, fish on! The fish shot back across the river in my direction, right into a root wad and broke the line. Within ten seconds the entire thing was over."
Chris's passion for fishing grew even more from there. He continued to pursue salmon and Steelhead every chance he got.
"I feel that my foundation for fishing started in southern Oregon, as this is where I learned most of my basic fundamentals and techniques that have made me the fisherman I am today."
After completing his education, Chris moved to Washington and started to fish the Columbia, in addition to the other rivers that he now guides on. He has been fishing the waters of Southwest Washington for over ten years now, and this is where he and his family of four call home.
Chris brings many great assets to our Total Fisherman team and one of his best traits is his high level of motivation. Just ask his wife and she'll tell you how much time he spends obsessing over his trips; every detail is important to him.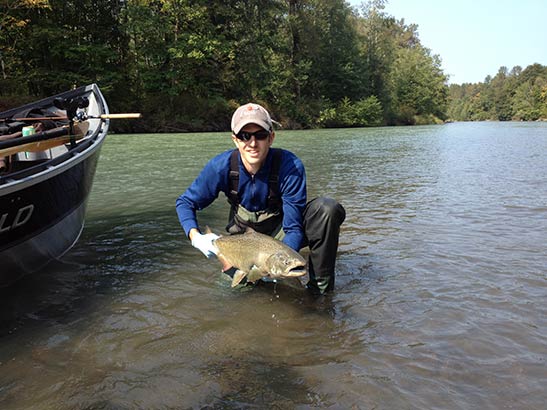 Here at Total Fisherman being highly motivated isn't something you do, it's who you are.
Chris's view on motivation is simple, "It's a matter of personal pride. I take a lot of pride in what I do as a guide, and I want that to be evident in my attitude, my demeanor and my success." These things are true for Chris on and off the water.
Chris feels that the key to success is a great attitude and a smile.
"I love to see a person's face light up when a fish smashes a plug rod or when you slip the net under their first Chinook salmon. Bringing that kind of satisfaction to my clients is what it's all about."
Chris has such a passion for fishing that if you spend a day in his boat, you'll quickly see exactly what we're talking about.
Chris's annual guiding schedule takes him from the mighty Columbia River to the lazy laid back waters of the Grays Harbor river systems.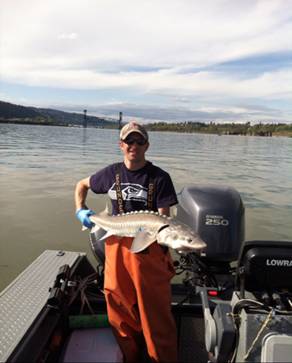 From January to February you can expect to find Chris with a fly rod in hand, wading along the shores of the Puget Sound, throwing clouser minnows at the resident cutthroat.
Early March through May will bring the much anticipated spring salmon and catch and release sturgeon season, beginning with the Columbia and then moving to the Willamette River.
In between the spring Chinook and sturgeon fishing, Chris will be fishing catch and release sea run Cutthroat trips on the Puget Sound as well as Kokanee trips on Lake Merwin.
June through July Chris will be moving to Astoria Oregon to fish catch and release sturgeon on the estuary.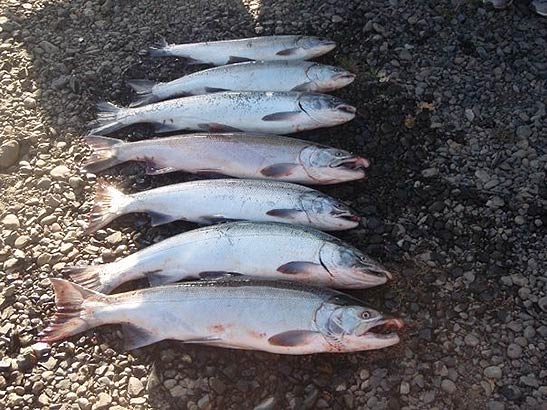 August through October will bring the return of the fall Chinook/Coho salmon to the Columbia River systems. The Coho will last well into October and that will bring the fall salmon season to a close.
Chris's calendar and locations are solely based on his intimate knowledge of the river systems, and the success he achieves while fishing.
"I have a great understanding of the fish and the rivers they swim in, and I absolutely love every destination on my calendar."
Chris and all of the Total Fisherman pro staff focus their efforts on the waters that they call home and are highly successful on. "If you're not focused and familiar with the waters you guide on, you're going to be chasing a bite, and not providing the paying client with a quality experience.", says Chris.
Along with the other guides at Total Fisherman, Chris strives to make your trip the trip of a lifetime. He looks forward to spending the day on the water with you and making memories as well as lasting friendships.
Please don't hesitate to email Chris if you have any questions about him or his trips. His email is: chris@totalfisherman.com
The Total Fisherman Philosophy
We believe that:
- Spending your life doing something you love is the secret to happiness.
- Attention to detail and being absolutely driven, catches fish and creates success.
- A focused effort catches more fish and bigger fish. Just going through the motions is for other people.
- Spending extra time and effort toward making your day successful is important and makes a difference.
- We believe that cutting corners on expenses and effort isn't something you do, even if nobody else will know.
- We believe we should expect the most from every day on the water and hold ourselves to a higher standard.
- We should give back as much and as often as we possibly can.
- It's our job to act as stewards of the resource and as consummate professionals who know that our actions speak louder than words.
Giving 100% every day is the norm, because Buoy 10 or Estuary sturgeon or whatever season we happen to be in only comes around once a year, and in a few weeks it will be over. Let's be realistic ... every one of us has to have a last day on the water. We never know when that day will come, so we are absolutely going to make every day our best day.
We don't have gimmicks like "Fish Catch Guarantees". We won't tell you that we're catching 50 pound salmon every week, or tell you the fishing is red hot when it's not, or any of the other assorted things that guides tell prospective clients to get them on their boats. We're honest and we have integrity.
We provide high quality fishing trips at the median price for guides in the NW. We could charge more or we could charge less, but we don't want you to come fishing with us because your decision is based on price. We want you to come fishing with us because you think we run a first class operation, that we are going to treat you well, and because we catch fish.
We're not the Dollar Store of fishing guides and we certainly aren't the Four Seasons. Our pricing is middle of the road. We believe in charging enough so that we can use high quality equipment, maintain this equipment, and not have to cut corners. We also believe that charging the average price will hopefully allow you to come back more often.
We really take fishing seriously, it's our passion and we certainly want to catch fish just as much as you do; that's why we go during the best times to the best locations and spend extra time, effort, and money to make your trip the best that it can be. We want you to have a successful trip so you come back fishing with us, we also want to be successful so we maintain our reputation as top notch guides.
We take a lot of pride in our fish catching ability and we do everything in our power to put fish in the box, while at the same time having fun, and keeping you safe.
Our approach to life and to fishing isn't standard, and it would certainly be "easier" for us if we weren't worried about these things, but the easy route and the safe bet aren't what we're after. We care about you and we care about your experience on our boats.
We believe our customers, peers and fellow fishermen know that we hold this philosophy close to our hearts and that they know we are out there every day living it. We believe it's important to not let them down.
Sincerely,
The Total Fisherman Team