Fishing Reports, Tips, Techniques & the latest news!
Buoy 10 Fishing Guides
Total Fisherman Guide Service specializes in fishing the Columbia River's "Buoy 10" area during the fall salmon run.  Buoy 10 has the best salmon fishing of the year and provides anglers and Buoy 10 Fishing Guides with exceptional fishing opportunity.
What is Buoy 10?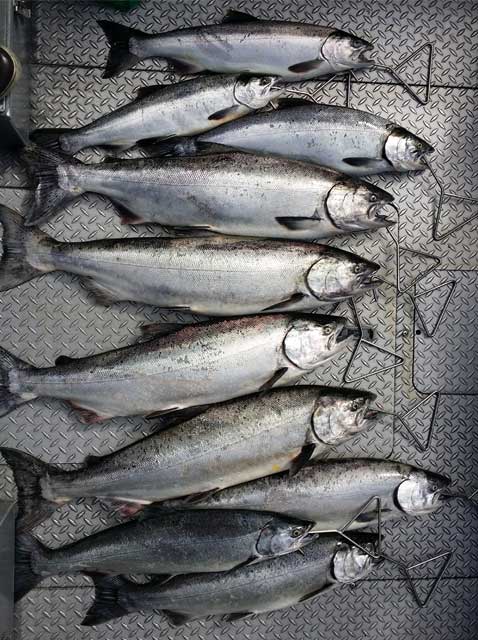 Buoy 10 is two things, an actual navigational buoy as well as an area on the lower Columbia River that has its own specific set of fishing regulations.

The Buoy 10 fishing zone starts inside the mouth of the Columbia River about one mile from the ocean and is defined by a line that runs through the actual red buoy #10 and extends approximately 20 miles upriver to a deadline that runs from Tongue Point on the Oregon side of the river to Rocky Point on the Washington side.  All waters within this zone are called "Buoy 10". Traditionally this area opens for Chinook (King) and Coho Salmon fishing on August 1 and continues until Labor Day for the Chinook Salmon and through October for the Coho (Silver) Salmon.
Fishing at Buoy 10
Salmon are caught here by trolling bait or lures behind divers or lead weights. The diver or lead takes the fisherman's gear down to where the fish are holding or traveling.

This being a troll fishery, rather than an anchor fishery (where boats anchor up and don't move) allows ample opportunity for many boats to move through salmon holding water and have a shot at biting fish.

Depending on the time of the month and the tide series salmon can be found throughout the Buoy 10 area or sometimes just concentrated in a few select spots.  Knowing the river's bottom structure and how this interacts with tides to affect the salmon's travel and holding patterns is the secret to success in this area.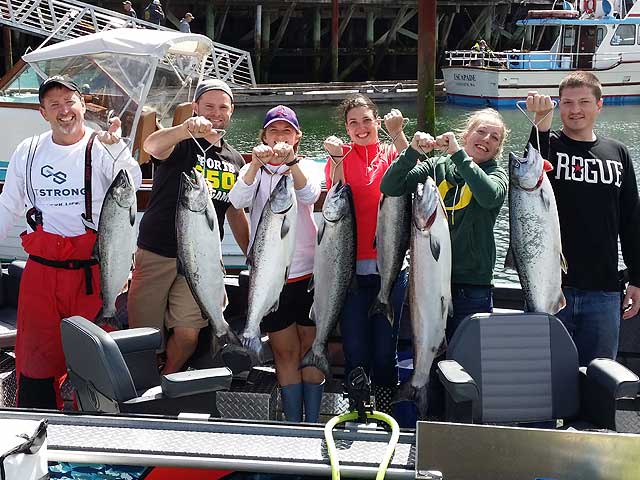 Fishing at Buoy 10 is complex because of the variety of individual areas that can be targeted.  It's this complexity that makes it such an amazing place to fish! On a normal day we might be fishing between Buoys 10 to 14 and then quickly following the fish upstream onto Desdemona Sands. 
At the top of the tide (High Tide) we may be above the Astoria-Megler Bridge on the Washington side of the river; then on the beginning of the outgoing tide we may be on the Oregon side of the river trolling downstream along the green buoy line.  These and many other areas hold salmon depending on tide levels, water temperature and stage of the salmon run. 
Combining the day's patterns together with past experience and a great presentation is what makes Buoy 10 fishing guides produce a great catch for their clients.  If you think it's just about putting your bait in the water and trolling around you will find Buoy 10 fishing to be a very frustrating experience.  It takes dedication and being on the Columbia's waters day in and day out to stay in touch with the moods and intricacies of this fishery.
Is fishing at Buoy 10 crowded?

Buoy 10 guided fishing is the most productive salmon fishing of the year.  This great fishing combined with nice weather, fresh ocean bright fish, and easy access, make it a popular fishing destination.

August is typically busier than September or October, and Fridays and Saturdays are always busier than other days of the week.

The second and third weekends in August tend to see the highest number of boats, but no matter what we're not forced to sit in the crowd because there are always other areas to go that hold fish. Most boaters look out for each other and safety levels are high with everyone enjoying the great salmon fishing!
Buoy 10 Fishing Trips with Total Fisherman Guide Service
Our guided fishing trips in the Buoy 10 area leave from the West Mooring Basin in Astoria, Oregon.  This central location gives us easy access to all areas of the river and it's close to fantastic hotel accommodations and great restaurants.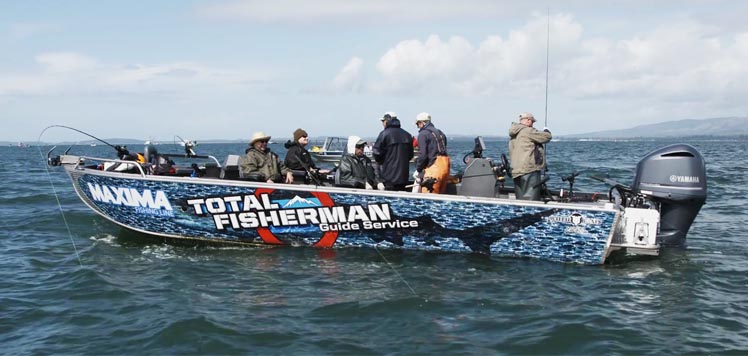 Our guide boats are custom built for the waters of the lower Columbia River and excel at fishing in this area.  All of our boats are made by Willie Boat Mfg. out of Central Point, Oregon and are considered in the fishing industry to have the best fit and finish of any boats made in the NW! 
We have two 28 foot boats and one 25 footer, all of which can very comfortably fish up to six anglers.  Most guide boats are less than 25 feet in length, so these are large and comfortable fishing platforms.
The only thing you need to bring is your lunch/beverages and fishing license.

We provide all of the fishing equipment, bait, lures etc.  There are no hidden charges.  We always fillet and vacuum package your catch for no additional charge. We can also freeze your catch overnight if you're staying in the area.

Providing you with an exceptional Buoy 10 fishing trip is our main goal and we have a reputation for being some of the best fishing guides in the area.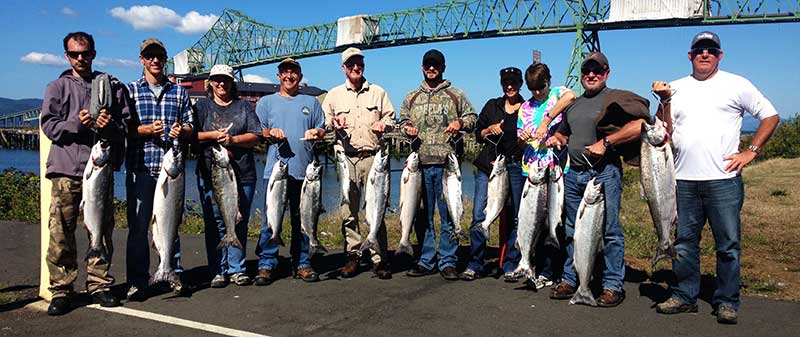 Give us a call to talk about trip availability and to go over any questions you may have.

Thanks and we're looking forward to fishing with you!
Reports - Seasons - Equipment - Photos
Rates - The Guides - Contact Us - Book a Trip - Why Hire Us?
Buoy 10 fishing guides and charters with Kevin Newell & Lacey DeWeert
Email: info@totalfisherman.com
Phone: 503-501-2424