Guided fishing trips, techniques and the latest news!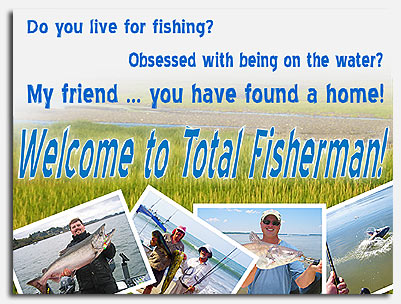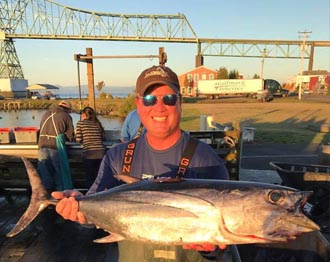 Welcome to
Total Fisherman!
These are photos from our latest trips.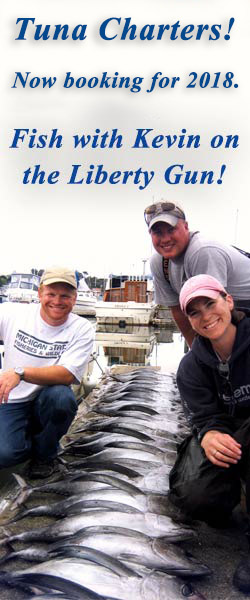 Oregon Tuna Charters with Capt, Kevin Newell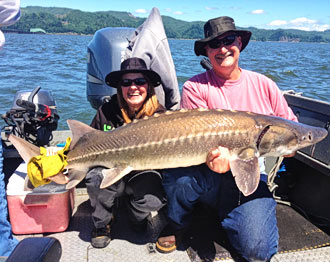 6-29 Big Sturgeon caught with Capt. Kevin Newell!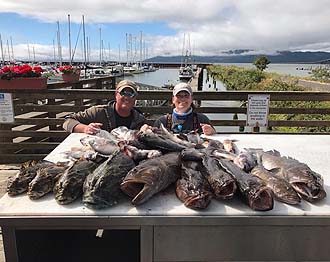 Bottom Fishing in July!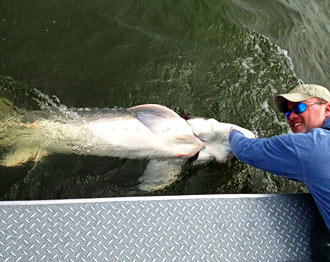 July 1, an 8.5 foot oversize sturgeon caught with Capt. Kevin Newell!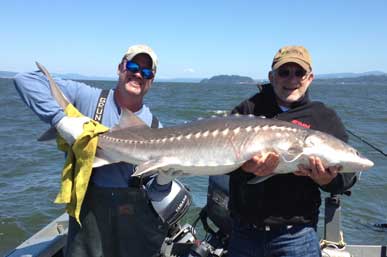 Columbia River Salmon Fishing with Capt. Lacey DeWeert!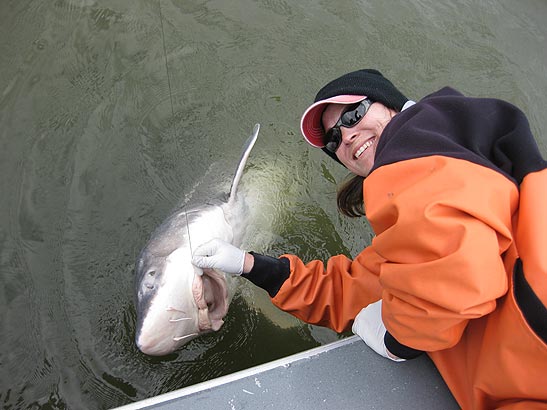 6-27 Columbia River sturgeon caught with Capt. Lacey DeWeert!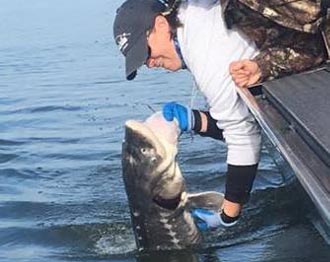 Oversize sturgeon fishing in June & July!
Columbia River Fishing Guides and Ocean Charters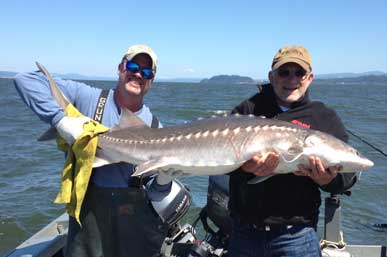 Guided Columbia River and ocean fishing trips for tuna, salmon, sturgeon, bottom fish and crab!
Total Fisherman specializes in fishing the Oregon Coastal Waters and Columbia River because it provides some of the best tuna, salmon & sturgeon fishing in the world!
Contact us at 503-501-2424 or email info@totalfisherman.com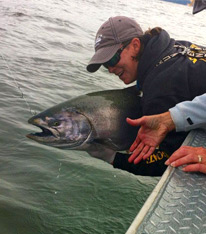 Lacey DeWeert
Lacey's prowess at putting fish in the boat while having a good time, is nothing short of amazing!
Salmon & sturgeon on the Columbia and Willamette Rivers fear her and speak her name in hushed tones because they know of her incredible ability to find and catch them!
"I work hard so I can play hard! When there are fish to be caught you're going to find me on the water!"
Read more about Lacey HERE!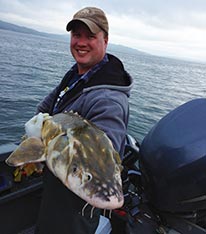 Kevin Newell
2017 marks the 18th year since Kevin started guiding on the Columbia River.
"I started guiding when I was 24 years old, fairly young by most standards, but now that I'm 41, I'm truly glad that I started at such at young age and didn't wait … so many things have changed in the last 15 years and I'm glad I was able to participate in these changes and not sit idly by waiting to make my big move into the professional guiding arena." Read more about Kevin HERE!
Total Fisherman Gift Certificates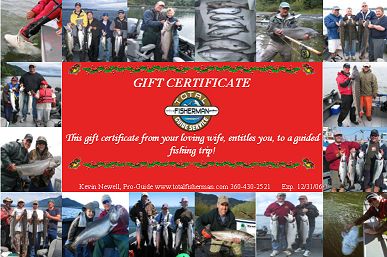 Get an awesome fishing gift for your favorite angler!
Contact us at 503-501-2424 or email info@totalfisherman.com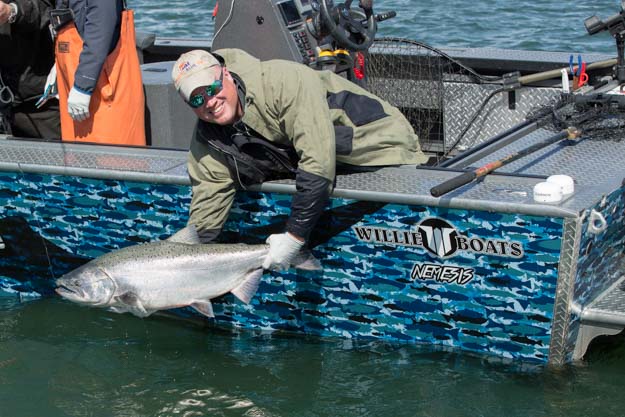 September, 19 2014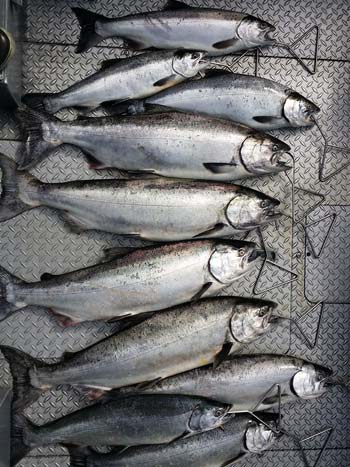 Using lead weights to take your bait to the desired depth when fishing in the Buoy 10 area has really caught on with a huge number of salmon anglers in recent years. Lead's effectiveness and simplicity make it the preferred choice for many seasoned anglers and guides.
This year's huge salmon run has allowed me to do some experimenting and I have found great success utilizing two new techniques. Mooching/jigging and drifting. While these techniques have been employed for many years in other salmon fisheries on the west coast, they are almost never seen on the lower Columbia River.
The advantage of employing these techniques is that it allows you to keep your bait in the fish zone as long as possible rather than quickly trolling through the school of salmon and then needing to fire up the main motor and run back up stream and troll down through the school again. This technique also allows you to utilize lighter lead to deliver your bait to the salmon because the boat's motor is not in gear moving you forward and away from them. Also, if all of the anglers on the boat look out for each other and work as a team, it allows you to keep fishing while someone is fighting their fish, similar to a bottom fishing trip.
February, 05 2011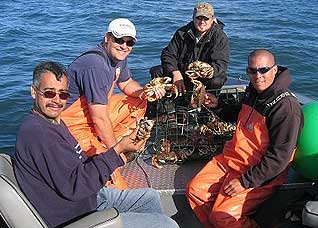 Crabbing is a lot of fun and an inexpensive and rewarding way for the whole family to get out and enjoy a day on the water with the added reward of catching a great meal!

This article focuses on crab fishing for Dungeness crab but could be applied to harvest other types of crab, make sure you check your local regulations before heading to the water.

Dungeness Crab are found in the Pacific Ocean, its river estuaries, and bays. They inhabit the ocean and bays from as far south as Santa Barbara, California all the way north to the Pribilof Islands in Alaska, and every bay and river entrance in between.

This large population and wide distribution makes them a very popular target for recreational crabbers as well as an important economic resource for commercial crabbers and coastal communities.
January, 23 2011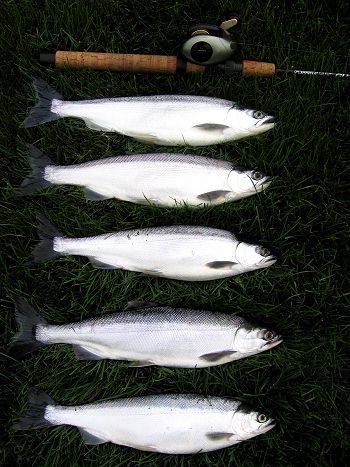 Lake Merwin Reservoir is part of the Lewis River drainage and can be accessed via Hwy 503 that runs through Woodland, WA.
Lake Merwin has two access points for boaters, Speelyai Bay and Cresap Bay. Speelyai Bay is the first boat launch that you come to as you drive up Highway 503.

Catching Kokanee on Lake Merwin is a lot of fun and the average size Kokanee is 13″ to 15″ which makes them substantially larger then those found in Yale Reservoir (the next reservoir up Hwy 503).
Having a fish finder is critical to catching limits of Kokanee. A good fish finder allows you to locate the depth that the schools of Kokanee are running.
Once you know the depth, then the best way to target Kokanee when trolling is via a downrigger.